Replete with miles of pristine beaches along the Pacific coast, Malibu is one of the most legendary California beach towns. Along with being full of cultural opportunities and fascinating celebrity culture, Malibu features dozens of premier shopping centers and an incredible dining scene.

Some might assume — incorrectly — that Malibu is home to nothing but tiki bars and casual beachy cafes. In reality, Malibu has a posh reputation when it comes to its dining scene. You might be surprised how many high-end restaurants are available to choose from to celebrate a special occasion or enjoy a nice dinner in town! Whether you're in the mood for an organic cafe or top-notch sushi, you're sure to find a fantastic option in Malibu. The following guide details ten of the most spectacular fine-dining spots in the city.
Nobu
It would be impossible to recommend the top fine dining destinations in Malibu without including Nobu on the list. Nobu is a haven for celebrities and members of the A-list. You'll often find paparazzi hanging outside in the parking lot and movie stars relaxing on the patio. It's not an easy feat to book a table at this gorgeous oceanfront restaurant with panoramic views of the Malibu coastline. More importantly, Nobu genuinely warrants the hype.

Despite a relatively standard menu as far as sushi goes, Nobu serves quality cuts that will linger in your mind long after the last bite. Just be prepared to shell out a few hundred dollars if you're dining here. It's worth it to go big on the bill.

Among Nobu's most popular small starter dishes are the sashimi tacos, which come in seven different varieties. You'll want to save room for their yellowtail sashimi with jalapeño and black cod miso dish. The soft-shell crab roll and rock shrimp tempura are among the most requested dishes.
Mastro's Ocean Club
When it comes to fine dining, there's something classic and traditional about dining in an old-school restaurant serving premier steak cuts and seafood. The place for this sophisticated fare is Mastro's Ocean Club. As its name suggests, it is situated adjacent to the ocean and offers incredible views.

It's an excellent location for a business lunch or a cocktail hour with a few friends. This cosmopolitan chophouse has consistently been ranked as one of the best steakhouses in the country. Once you've had your fill of tasty filets, try their signature warm butter cake for dessert.
Saddle Peak Lodge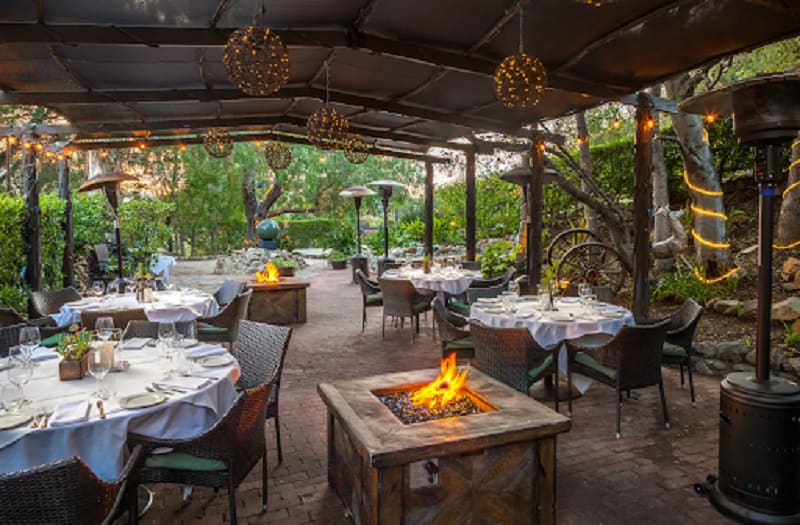 Credit: Saddle Peak Lodge
Hidden away in the Calabasas Hills, close to the famous Saddle Peak rock formation, is Saddle Peak Lodge. Once inside, you'll feel like you're on a romantic mountainside vacation. Indulge in wild game served with sophisticated wine pairings. Originating over a century ago, The Saddle Peak Lodge is considered the epicenter of romance and history.

It's on the pricier side, but you're paying for a luxurious, one-of-a-kind experience that you won't find anywhere else in Malibu. Take in the sights and appreciate the long storied history of the Saddle Peak Lodge, which has seen its fair share of hunters, cowboys, miners, and colorful characters. Make sure you try the signature local brew called Hillbilly Punch.

The restaurant also hosts private events and is a popular place for weddings. If you're feeling bold, visit their exclusive whiskey room, known as the Double Barrel Room, on the top floor of the lodge. You'll enjoy a curated experience through their selection of vintage and rare whiskeys.
Geoffrey's
JFK, Marilyn Monroe, and other Old Hollywood stars once frequented this intimate beachside restaurant. Geoffrey's is a classy joint with a picture-perfect spot next to the ocean. Since Geoffrey's first opened its doors in 1948, it has served as the centerpiece of classic Hollywood. Today, it remains an elegant homage to Hollywood's golden age, serving luxurious seafood and exquisite meals for any special occasion.

Among the most popular dishes are Geoffrey's crème brulée, crab cake Benedict, golden beet salad with herbed goat cheese, Thai grilled salmon salad, sauteed Maine mussels, and seasonal oysters.
Saddlerock Gardens
If you enjoy farm-to-table meals, then look no further than Saddlerock Gardens, located in the picturesque Saddlerock Ranch and affiliated with Malibu Wines for locally produced options. Saddlerock hosts chefs from all around Los Angeles to create unique, seasonally appropriate meals.

The restaurant specializes in creating an outdoor dining experience among the vibrant garden landscape. In addition to dining, you can partake in a Malibu Wine Safari or Malibu Wine Hike. Saddlerock Gardens offers more of a full-scale experience than a simple dinner, and they make it evident from the moment you arrive. In addition to savoring an exquisite meal, you can participate in cooking and gardening workshops.
Moonshadows
Whether you're in the mood for a champagne brunch or a sunset dinner, the famed Moonshadows is the place to be. Built along the side of a cliff overlooking the Malibu beach, you won't see views like those at Moonshadows anywhere else. Their seafood-centric menu offers an array of gourmet cuisine with Asian and Italian influences. Moonshadows has a more relaxed, lounge-like atmosphere than some of the other spots on this list, but that should not dissuade you from visiting.

The effortlessly cool vibe attracts numerous Hollywood elite members, and well-known DJs frequent the attached Blue Lounge with its decked-out patio and cabanas to keep the mood light and hip. Bask in the warm ocean breeze while sipping on a nightcap or nibbling on one of their mouthwatering dishes. It's Malibu at its best.
Malibu Farm Restaurant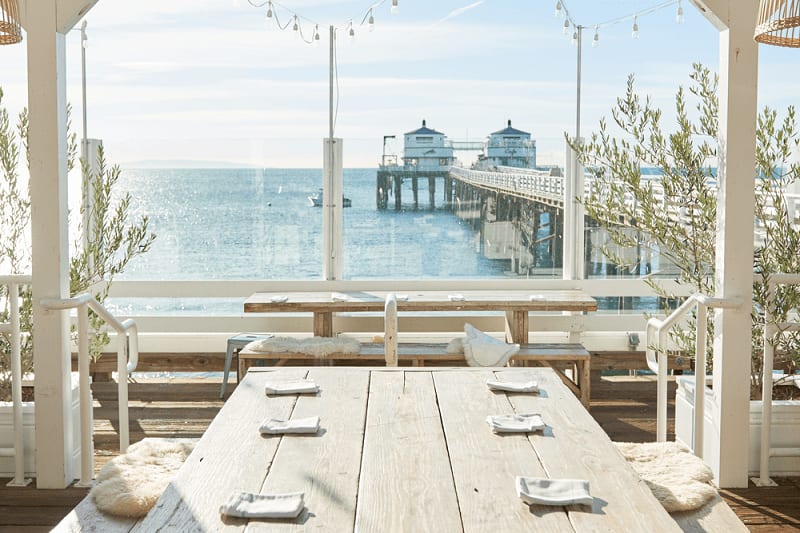 Credit: Malibu Pier


Malibu Farm Restaurant actually functions as two separate eateries. The official Malibu Farm Restaurant is full-service with a bar and specialty cocktails. It is located at the start of the pier, while the Malibu Farm Cafe, a counter-service cafe, is at the end of the pier. The restaurant accepts dinner reservations, but the cafe does not. The cafe serves only beer and wine.

The cafe is an excellent place for a light bite, coffee, or breakfast, while the restaurant is better suited to a nice dinner. They both skew toward the casual, with the cafe being laid-back, while the restaurant is a little more upscale. Neither should be missed.

The restaurant is famous for its jalapeño cocktail and Malibu blue nachos; you'll want to go for a classic burger or a fried egg sandwich at the cafe. Because the Malibu Farm owner is Swedish, you'll discover a fusion of Scandanavian cuisine on the menu, including adorable Swedish mini pancakes.
Carbon Beach Club Restaurant
The Malibu Beach Inn restaurant, formally known as the Carbon Beach Club Restaurant, offers seasonal Californian cuisine paired with an epic selection of regional wines, top-shelf cocktails, and craft beers. Situated on the sands of Carbon Beach, guests are blessed with glorious views of the ocean. Let's be honest, if you're dining in Malibu, you'll want to pick an oceanfront cafe, and Carbon Beach is one of several.

Surrounded by the cobalt blue sea, it only makes sense that Carbon Beach would use the freshest ingredients from local farmers' markets to create a mixture of phenomenal land and sea menu choices. Menu selections vary by season because of their dedication to using locally sourced ingredients.
V's Restaurant + Bar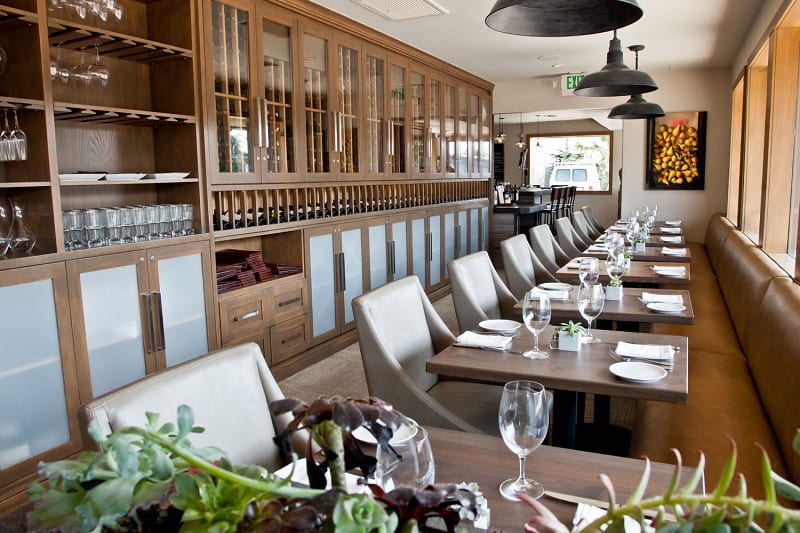 Credit: V's Malibu


Indulge yourself in authentic, contemporary Italian cuisine and fine global wines at V's Restaurant + Bar, a warm, upscale restaurant near the Pacific Coast Highway. Like other restaurants on this list, V's uses only the freshest local ingredients to bring you farm-to-table meals that will leave you breathless. While not technically perched on the beach with sea views like some of the other spots on this list, V's makes up for it with its ambitious interior design and decadent dining options.

Among some of their most indulgent and crowd-pleasing dishes are the ahi tuna tartare, P.E.I. mussels, pan-roasted Jidori chicken, saffron risotto, pesto-crusted lamb chops, and truffle mac 'n cheese. You'll find a diverse selection of worldly wines, craft beers, spirits, and handcrafted cocktails at the bar.
Spruzzo Restaurant & Bar
The family-friendly Spruzzo Restaurant & Bar is best known for their yummy wood-fired brick pizza made Italian-style, ranging from classic Napoletanas to Santa Fe flavors. Complement your pizza with gourmet salads, sandwiches, or one of their incredible appetizers, such as fried calamari or grilled artichokes.

They also have a full-service bar that includes multiple brews on tap, top-shelf cocktails, and more. Spruzzo cooks food to perfection and prides itself on being the only seaside Italian restaurant around. Guests love the outdoor heated patio with a fire pit for the cooler months of the year!

Sandro Dazzan is one of the nation's top realtors and a well-respected Malibu real estate agent. Those seeking Malibu real estate should look no further than Sandro as his experience speaks for itself. Contact Sandro today to start searching for your dream home!