Like the French Riviera, the Hamptons, and Napa Valley, Malibu is the name of a place which gestures to an idea larger than itself. The dramatic cliffs diving into the ocean. The rhythmic crashing of waves on the shore. The salty sea breeze ruffling through your hair. Malibu is a place that symbolizes beauty, peace, and classic American freedom.
It's not hard to see why. The historic Pacific Coast Highway snaking along the edge of Malibu, with the beaches as a backdrop, has been an iconic image and destination for America through the decades. Many dream of visiting here. Los Angelinos flock here in the summer. And for a lucky few, they call this place home.
From Tuna Canyon in the south to Point Mugu in the north, Malibu boasts twenty-seven miles of stunning beaches and coastline. Not surprisingly, it's a popular destination for beach-goers, especially during the warmer months. Zuma and Surfrider beach are the most popular, but the region has many other less-traveled beaches for those committed to a more private experience.
Although Malibu had many beach access disputes over the years, the California Coastal Commission kept the far majority of them open to the public. The "Right to Pass by Permission and Subject to Control of Owner" signs set up by landowners are fake and can be ignored.
Let's check out a few of these hidden beaches where you can experience the magic of Malibu without the crowds.
Big Rock Beach
Underwater during high tides, this beach is known for its dramatic rock formations. A larger, towering pile of rocks just offshore is a popular landing spot for birds and adds a dramatic feature to the horizon. It's an ideal location for a sunset walk and capturing beautiful photographs. The public gate access is located at 20000 Pacific Coast Highway, Malibu. Although it has little public parking, this helps ensure the beach remains an uncrowded destination.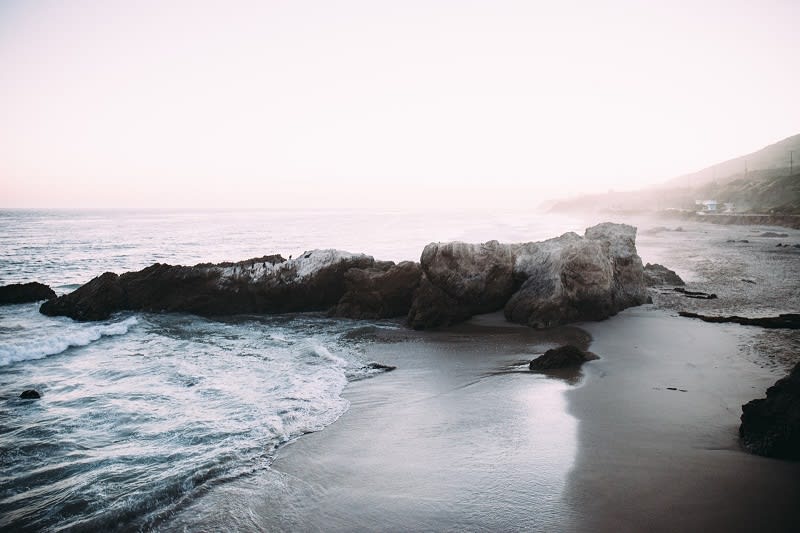 El Sol Beach
Those motivated to handle a trickier expedition will be rewarded with a beautiful beach you'll have nearly to yourself. With gentle waves lapping on the shore and a large bluff of greenery separating you from the highway, it truly is an ideal location. Access is possible during low tide but can also be reached by traveling west from El Pescador State Beach or east from Nicholas Canyon County Beach. Local landowners have unfortunately opposed the construction of a direct access stairway thus far, but on the flip side, it helps keep out the tourists.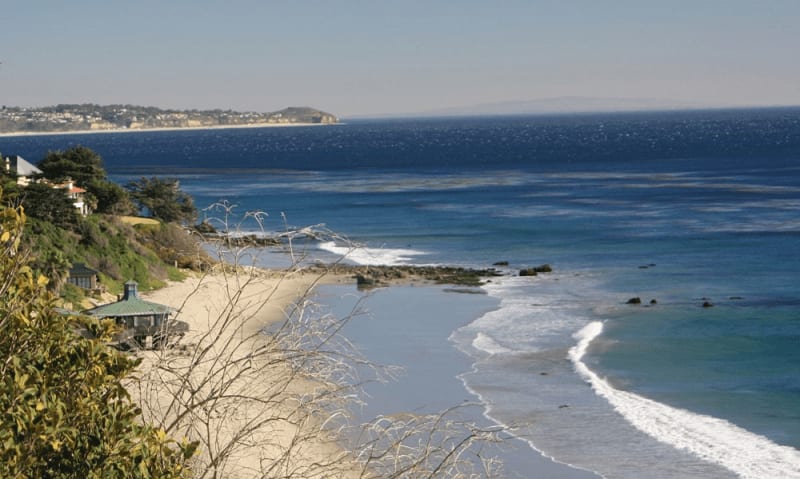 Credit: California Beaches
Staircase Beach in Leo Carrillo State Park
Despite its misleading name, there is no staircase at this beach. Instead, this area tucked at the northern end of Leo Carrillo State Beach can be accessed by a winding and picturesque path from the parking area at 40000 Pacific Coast Highway, Malibu. Surfers are the regulars at this beach, and if you're looking to spend the day laying out on your towel, head a little farther south away from the rocks.

Staircase Beach can also be reached by arriving at the North Beach parking lot, inside the main park entrance, and heading north. A little more rugged and less manicured than the others, this beach offers an intimate experience with the majesty of the Pacific Coast while remaining thoroughly enjoyable.
Pirate's Cove Beach
Arguably one of the most strikingly beautiful beaches on the West Coast, Pirate's Cove Beach is a sandy beach tucked away in a small cove near Point Dune. With the Malibu cliffs curving outward across the beach and into the water on either side, you'll feel secluded from the rest of the world. It'll be just you, the sand, and the ocean. You can access this small paradise from the southern end of Westward Beach, preferably during low tides.

Other highlights include a hiking trail from Westward Beach, which rises to the nature preserve on the bluff atop the cove. As you drink in the views from above, you might recognize Pirate's Cove as the location for an iconic film scene. The powerful ending of Planet of the Apes (1968) was shot here, where Charlton Heston collapsed to his knees when he came across the destroyed Statue of Liberty.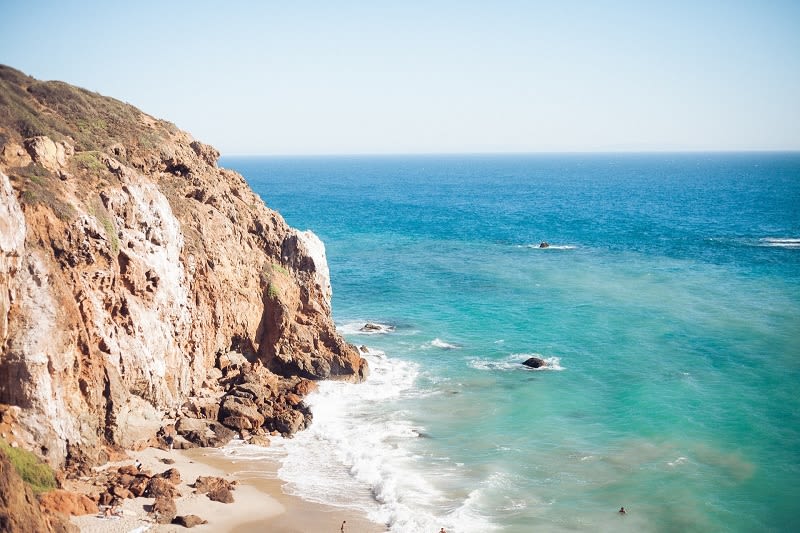 Lechuza Beach
Located on Robert H. Meyer Memorial State Beach, Lechuza is part of a grouping of beaches called El Matador. With several caves and arches in the cliff rocks, this site is not only an enjoyable beach but an excellent location for photoshoots. Although El Matador Beach is more popular, Lechuza remains a little-known public beach in Malibu. Largely frequented by locals who live in the stunning houses above, Lechuza offers a classic Malibu experience without the crowds. The easiest and most direct access is from an entrance on Broad Beach Road, located across from the Bunnie Lane cul-de-sac. The beach can be reached by a walk under tree-covered paths and down a flight of stairs.
Nicholas Canyon Beach
If you're looking for a secluded beach with easier access and amenities, Nicholas Canyon might be the ticket. This gorgeous beach with sweeping views of the curved coastline has two parking facilities nearby. With restrooms, picnic tables, and stairs to the beach, roll up with your family and friends, and enjoy a comfortable day in Malibu. Referred to as "point break" by surfers because of its ideal surf location, it's also a great place to go body surfing, wind sailing, and scuba diving. With twenty-three acres of beach, you'll have plenty of space to yourself.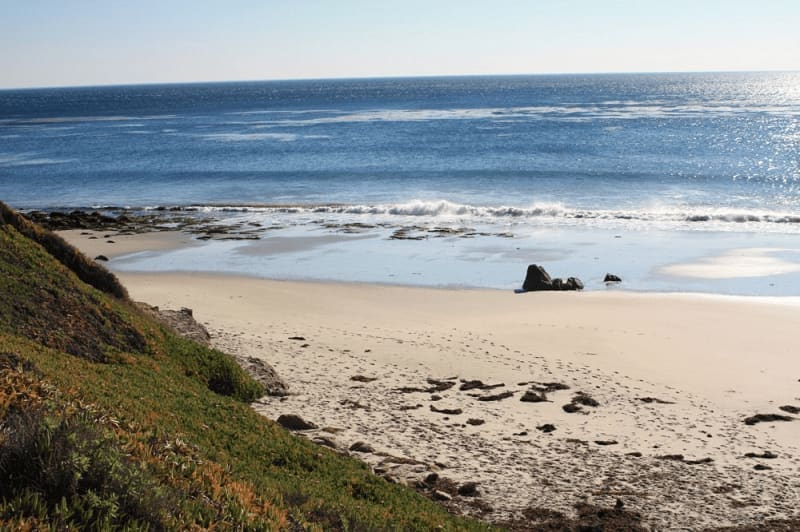 Credit: California Beaches


Latigo Beach
One of the main draws of this beach is that few people, even in Los Angeles, have heard of this place. Just about three miles north of the Malibu Pier, this secluded destination is hidden by a row of houses. With the smaller, slower waves and less crowding than Surfrider beach, it's an excellent spot for beginner surfers to test their skills. The Latigo point also blocks out much of the coastal wind, allowing the beach to remain a calm and idyllic place to lay out and enjoy the sun. Access is located on Latigo Shore Drive, although be sure to park on the Pacific Coast Highway to avoid a parking ticket.
Looking to enjoy the hidden beaches of Malibu year-round? Feel free to contact us today about luxury homes for sale in Malibu, and real estate in Malibu Colony.